Planning to celebrate your wedding on one of the 7,107 islands in the Philippines? Here are some popular Wedding Destinations in the Philippines:
Tagaytay
The edge of Tagaytay is the perfect mix of cool climate and the lush green ambiance it provides. Sunset garden weddings are perfect for a romantic and intimate wedding. Some say that this is the best moment in a Tagaytay wedding - when the sun sets before, during, or after the wedding ceremony.
Tagaytay also offers a scenic view of Taal Lake and Taal Volcano. Many describe it as breathtaking and romantic. This is probably the reason why some of the most popular Tagaytay wedding reception venues are strategically situated near the Taal Volcano. And just like any wedding destination, Tagaytay gives couples the feel of being away from all the hustle and bustle of the metro and enjoy a wonderful day with the people who matters to them most.
Know more about Tagaytay Weddings...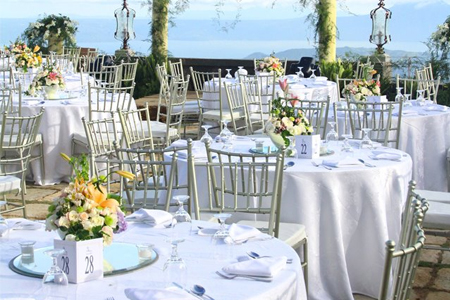 Tagaytay Wedding at Villa Ibarra overlooking Taal Lake and Volcano
Cebu
Cebu is the Manila of Visayas. With its modern structure, urbanized cities, and active economy, it has become one of the prime provinces in the country. But amidst the face of modernity, Cebu retained and maintained its unique color and atmosphere that makes it a premiere wedding destination in the Philippines.
The beaches found in Cebu, the Queen of the South, have become one of the most favorite Philippine beach wedding destinations by both local and foreign soon-to-wed couples.
Surrounded by neighboring islands, Cebu does not get hit by typhoons often, making it perfect for beach weddings.
Know more about Cebu Weddings...
Know more about Beach Weddings in Cebu...
Bacolod
Visitors, from all over the country and from other nations, flock to
Bacolod City
for excellent food, beautiful tropical beaches, historical sites, and most importantly, the warm atmosphere twined by the locals' warm welcome and hospitality.
Bacolod is an attractive place to stay in and a romantic place to hold a wedding, not just because of the City's natural beauty but also because of its proximity to the tropical beaches of Negros. Relax with your family and friends and enjoy and explore the clear waters of Bacolod beaches before and even after you walk down the altar.
Besides Masskara Festival, Bacolod is also known for its historical sites that reflect and serve as mementos of the kind of life the locals had during and after the Spanish colonization. If you want a touch of history and tradition for your wedding,
Bacolod's San Sebastian Cathedral
and other historical attractions might just be the ideal Bacolod wedding ceremony venue for you and your loved one.
Know more about Bacolod Weddings...
Know more about Bacolod Churches...
Pampanga
Endowed with natural and man-made attractions like Mt. Arayat, Mt. Pinatubo, Candaba Suspension Bridge, and others, Pampanga offers sightseeing and other fun and exciting activities for to-be wed couples and their families and wedding guests.
Majestic churches can be found all throughout Pampanga. These are San Guillermo Paris Church, Metropolitan Cathedral of San Fernando, Holy Rosary Paris Church, and others. The churches' magnificent architectural designs, styles and decors speak of Kapampangans' passionate and heartfelt devotion. This makes a Pampanga church wedding intimate and solemn yet festive and elegant.
Know more about Pampanga Weddings...
Cagayan de Oro
Cagayan de Oro (CDO) is a first class city and is also the capital of Misamis Oriental. This golden city is not just a superb tourist destination, but a wonderful wedding destination, as well. It has a lot to offer couples who are looking for a fusion of nature, culture, and adventure. Whether it is a beach wedding, garden wedding, or church wedding, Cagayan de Oro provides nothing but the best.
Going east of the city for about two hours brings the magnificent beaches, waterfalls, and hot springs of Camiguin Island. Travel west of the city and you would be able to see the majestic ribbon of water coming from Maria Cristina Falls in Iligan City. Going south, couples will reach Malaybalay, Bukidnon, which offers the Valencia plains and plateau comparable to Tagaytay and Baguio. These terrific places provide a perfect wedding backdrop and delightful experience for both couples and wedding guests.
Baguio
The City of Pines has always been one of the top tourist destinations here in the Philippines. Both local and foreign travelers flock to the cool city of Baguio to get away from the tropical heat. The city's temperature ranges from 15 to 26 degrees Celsius and it is almost always 8 degrees Celsius lower than the temperature in any other place in the entire country. Baguio is the coolest place during the hot summer days in the Philippines – making it the "The Summer Capital of the Philippines." Aside from this cool fact, Baguio also boasts of its rich cultural heritage and attractive tourist spots. All these make the city a great
wedding
destination
and a perfect honeymoon getaway.
Iloilo
Iloilo is known as The Haven Gateway in Western Visayas because of its fascinating natural attractions. Its cascading waterfalls and awesome white-sand beaches is perfect for an Iloilo beach wedding. Iloilo's historical churches are ideal for couples who have deep Catholic roots.But apart from these historical and natural sightseeing wonders, the main attraction for Iloilo weddings is the province's penchant for colorful and lavish celebrations. Most tourists make sure to stop over
Iloilo City
to try out mouth-watering Ilonggo delicacies and to witness their festivals like the
Dinagyang
Festival.
Know more about Iloilo Weddings...
Want to have a Philippine Destination Wedding? Go to Kasal.com Supplier Directory for wedding suppliers all over the country.