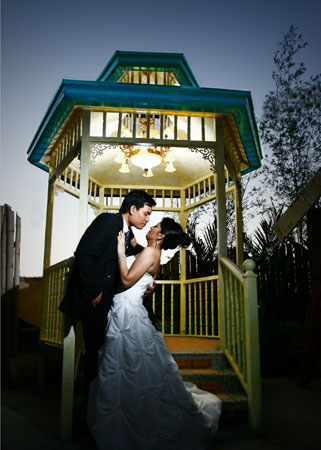 Sample 'outdoor-like' wedding shoot
in B.A Photo Studio
The prenuptial photo shoot has become one of the most anticipated activities of any couple's wedding preparation. Thus, having a reliable Filipino wedding photographer helps in making this event productive and worthwhile. As the experts, photographers must be able to assist soon-to-wed couples in organizing their prenuptial shoot and of course, produce quality output.
For budgeted, busy, yet creative couples, B.A. Studio offers both a team of talented wedding photographers and a fully-equipped studio where prenuptial shots may be taken. The annex studio located in Quezon City is an 8-storey European-design building with the following features: 18th century Greek wall antique design, an intricate winding stairway, Rialto Bridge, Muebles Italiano Falls, exquisite French-style canopy, and a man-made cave. With such features, the studio annex allows the couple to have both an indoor and an 'outdoor-like' shoot. To match the distinctive look of the place, they even provide couples with European outfits to use. Couples who avail of their wedding package can opt to have their shoot there for the whole day at no extra charge.
Learn more about B.A. Studio's prenuptial and wedding photography services...