For any event, especially a wedding, visual aesthetics receive significant focus. As each event conveys a unique message and feeling, its visual representation must be present in all corners of the venue. It involves a lot of planning, conceptualizing, and research to make all the artistic elements visualized by the clientele come to life. This is the main goal of a Filipino wedding flower and event stylist.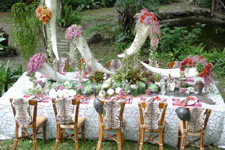 Safari Wedding Theme by Henry Pascual

It's all in a day's work for premier Filipino flower and event stylist Henry Pascual. With a degree in Fine Arts major in Advertising, a background as visual artist consultant for clothing company Cinderella, and years of experience in event styling for corporate events and wedding, he has developed a more discriminating eye for beauty which he shares with clients and guests.

Henry is known in the Philippine wedding industry as someone who goes against the flow. For instance, he believes that event styling does not follow any trend. According to Henry, the concept and design depend on the preference of the clientele, thus, they are not bound by what is 'in' for the season. If the client wants a winter design for his event in summertime, a winter design it is. It's their prerogative.
Know more about Henry Pascual and his unique wedding styling service...