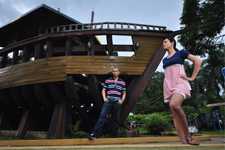 Pre-nuptial and wedding venue
by Jardin de Miramar
Let memories be encapsulated forever.
Let the romantic gardens and the photographic scenery tell your story, and sing your song.
Let it be a talk of a lifetime, your children and children's children asking how you both found paradise.
Half an hour drive from Ortigas takes you into another world of sheer photographic scenery within the cool, country offering that is
Antipolo City
- a sanctum of bliss and an almost surreal Eden.
Jardin De Miramar
, featured by over 50 television and media broadcasts, including the international Reuters and Associated Press, is the premier choice for pre-nuptial shoots for many reasons.