Some couples go for a wedding photographer who has the highest fee to be sure that they are getting the best person for the job. But not everything that comes with a high pricetag means it's the best. In the same vein, not everything cheap is substandard. The fact of the matter is, couples can get quality wedding photos without hurting their pockets. Affordability and quality - two factors that don't usually mix when it comes to wedding photography. But for
Manila Prime Studio
, the benchmarks of true quality is excellent wedding photographs at an affordable price.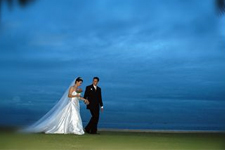 Wedding Photo by Manila Prime Studio

Since its inception in 1989, Manila Prime Studio has been consistent in providing quality photo albums and video editing productions. This wedding photo studio based in Manila is headed by Leny Maluya, a photographer and layout artist, and Edgardo Maluya, a VTR Man specialist. They believe that quality photography does not have to be expensive at all. Their complete wedding package starts as low as P35,000-P40,000. They have always made sure that their products and services are proven, time and again, to be superior yet affordable.
Learn more about the
Wedding Photography of Manila Prime Studio....