Outdoor weddings are fun for crafty brides as they get to play around with plenty of wedding details including Wedding Signages. If you're a crafty and budget-conscious bride whose outdoor wedding dream includes romantic, vintage or even comic wedding signs, then scroll down and be inspired! Kasal.com gathers these DIY Wedding Signages from Real Weddings, blogs and DIY wedding websites to get you started on your wedding craftiness!
1. String & Nail Wedding Signs
This DIY wedding sign suits backyard, home and garden weddings. It adds up to the quaint, intimate and cozy feel to your wedding.
String and nail wedding signs by weddingwindow.com
2. Burlap Banners
This one's also well suited for garden, backyard or even beach weddings.
Burlap Banners by weddingwindow.com
3. Pipe Cleaner Wedding Sign
If you want more color in your wedding decor, then this DIY wedding sign is for you. It uses furry pipe cleaners (wire) so it can be shaped into the words you wish to display.
Pipe Cleaner Wedding Sign by weddingwindow.com
4. Chic Wedding Chalkboards
Using chalkboards for wedding signs never gets old. It's not too formal but chic nonetheless.
Chic wedding chalkboards by craftzine.com
5.
Photobooth Sign
This one's pretty and easy to make. Free templates are made available so all you need to do is change it up a little, print and hang!
Photobooth sign by weddingchicks.com
6. Just Married Banner
This just married sign is made from two differently colored fabrics sewn together to make this lovely piece.
Just married banner by thesweetestoccasion.com
7. Calligraphy Wedding Signs
Guests won't normally sit on the Mr and Mrs designated chairs, but it's fun to label so go ahead! These are free customizable wedding signs that you can easily print on specialty paper.
Calligraphy Wedding Signs by Laura Hoopers in weddingchicks.com
8. Vintage Bride & Groom Do It Yourself Signs
Instead of the Mr and Mrs signs, you can also use Bride and Groom. You can make it vintage, comic, or minimalist, it's up to you!
Vintage Bride and Groom Signs by weddingchicks.com
9.
Hand-painted Wooden Wedding Signs
This one caught our attention because of it's funny play on words. I DO for the ceremony and WE DID for the wedding reception. Witty isn't it?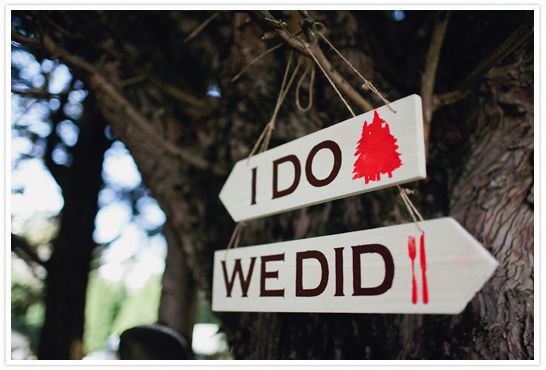 Hand-painted Wooden Wedding Signs by rufflesandbelles.wordpress.com
10.
Chalkboard Snap Station
And lastly, this fun couple turned their wedding into an adventure and used chalkboard signs to label different areas at the reception. This one's called the Camp Kasal Snap Station.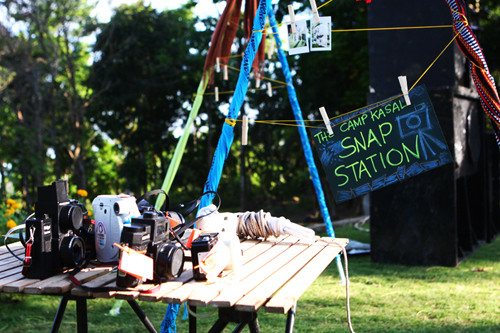 DIY Snap Station from Kasal.com Real Weddings
If you have your own DIY Wedding Ideas, Photos or Guides, email them to kasal.comteam@gmail.com and we'll feature them in
Kasal.com
and on
Facebook
. We can't wait to see yours!
Looking for an outdoor wedding venue? Go to
Kasal.com Supplier Directory - Garden Weddings
.