You've said your sweet "I Do's," put on your wedding rings, and given your vows. The requisite wedding photo shoot follows. Then you walk back from the altar, back down the aisle, towards that life you have committed to each other forever…What a wonderful wedding!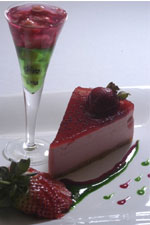 But then again, does a wedding really stop there? Reality is, no. There is still the wedding reception to go to, to spend time with family and friends, and thank them for everything. It's a time to celebrate, and we Filipinos know the best way to do that: we EAT. But how do we make sure that our families and guests will enjoy their food? In planning weddings, it is also necessary that the couples choose well what they want on their guests' plates. It is understandable that if caterers are hired, soon-to-wed's would like to have affordable service. Still, it would be great to have good quality food to go along with the excellent catering.
Read more about Hizon's Catering Wedding Services...