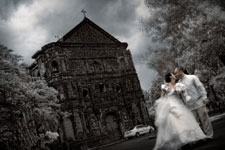 Like father, like son. Cliché, maybe? But in the case of Danny and Bogs Ignacio, father and son respectively, the fruit certainly did not fall far from the tree. But then, who's to complain? Certainly not the people whose lives they touch with their brand of visual poetry.
Through their wedding studio, Vignette Photography, their art has definitely earned them both accolades and praises from organizations and clients alike. The dream effect, the dramatic aura, the enchanting colors…A Vignette photo does seem to paint a thousand words, speaking to its audience. And with such to show to loved ones and friends, wouldn't any newlyweds be proud to have their lovely moments captured by the lenses of an Ignacio?
Read more about Father-and-Son Tandem Danny and Bogs Ignacio of Vignette Photography...