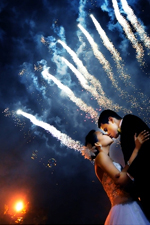 When it comes to choosing a wedding supplier, couples would naturally want someone that gives quality service at an affordable price. This is true especially when it comes to choosing wedding photographers. Admittedly, wedding photography takes a significant percentage of a wedding budget. That is why couples always want to invest in the best man or woman for the job. They prefer a
wedding photographer
who offers a wedding photography package that reflects their personality at a price that will not cost them an arm and a leg. For the past years, this is what Bobby Espedilla, General Manager of Daystar Records Studio, has been offering.
Affordable + Quality Wedding Photos
Bobby Espedilla has been in the
Philippine wedding photo and video
industry for six years. Despite the relatively few years of practice compared to veteran wedding photographers, his experience in handling wedding is unquestionable. He has done countless weddings and has become one of the most sought after Filipino wedding photographers today. This is primarily because his wedding packages are one of the
most affordable
in the Philippine wedding industry.
Read more about the affordable wedding photography services of Daystar Records Studio...